Contemporary Lampshades

article by Jim Hoyle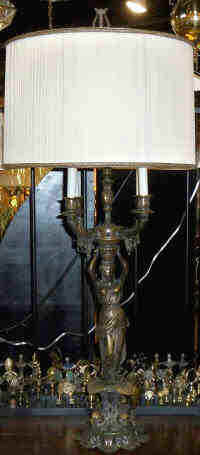 The drum lamp shade shown on this antique candelabra lamp is about 60 years old yet it is called a contemporary style.
Customers often request these and generally refers to styles currently in vogue and often seen in recent design magazines and other current home lighting publications and advertisements.
Definition: Marked by characteristics of the present period, immediately relevant to the present, a certain perspective of the modern time period
Ironically, most contemporary lamp shades have their origin many decades ago. The most popular ones today are the drum and shallow drum, both which originated in the early 1900's. Are they contemporary, retro or vintage styles ? The answer is yes, yes and yes.
So the question remains as to which shade styles are not contemporary ? The answer is very few because of the popular eclectic style of decorating which incorporates various cultures, periods, methods, composed of elements drawn from various sources.
There are numerous sub categories of contemporary lamp shades which I may address in a future article. These include, Funky, Industrial and other specialty styles that are growing in popularity.
Shop our
contemporary lamp shades
here.