Customer Comments and Feedback
Our goal each day is to provide the Very Finest Customer Service Available from Any Company of Any Size in Any Industry. Internet customers receive the same personal service as our retail store customers since 1979. - Jim Hoyle

----------------------------------------------------------------------------------------------------------------------------------------------------------------------------
12-27-13: We received the lamp shades today and they are just perfect and our 82 year old mother loves them! Thank you so much and you are a wonderful company!!
Best Regards, N.K. Salt Lake City, UT
6-5-13: Hello.... hunter green pleated shade I ordered arrived today in good condition... and it fits perfectly... so thank you for the prompt service... I will keep you in mind for future shade needs...
M.L.K.
5-28-13: Dear Jim, My husband, Bill Winter, asked that I forward this photo (see
Uno shades
) to you along with his sincere thanks for your help with a recent order. He purchased this wicker shade for the floor lamp that he restored and then discovered he needed a UNO thread - which you quickly and efficiently put in the mail to him as an additional courtesy. He thought you might like to see the finished project!
Thanks again for your help!
Cordially, S. C. W.
4-24-13: Jim, I came in this past Friday on the way to mountains. I have seen your store for a few years and always wanted to stop. When I told my husband he turned around. Now, he is not a shopper so the experience was nice for him, but he was ready to get to our destination. For me, I was in heaven.
We talked for a while and you were so gracious with your time. I love your store. In Charlotte I have never been happy with the selections. So, I was so thrilled with your store. I told my girlfriends in the mountains and told them were to find you. Some want to drive up with me.
I do want to come back without my husband. :) I would also like to bring in two antique chandeliers that I would like your guidance and support on. One has a broken piece I need to replace, if possible. And the other is from the 50's which my father purchased. It is the only thing I have of his, he passed when I was four years old. I did paint it at one time, and I would like your expertise to understand if or should the paint can be removed.
I would also like to shop! I did see a few things I am very interested in.
I know you are retired, I am not. So, I am wondering if there are some Saturdays when you are in the shop? If so I could come up and meet with you and shop. Let me know.
Again, it was a thrill to spend time with you and to wonder through your store. Thank you for such a lovely experience. I hope to have a few more.
- G.A.D. Charlotte, NC 28205, United States of America
4-17-13: Jim, The two 9 x 16 x 12 black, side pleated lamp shades I ordered arrived yesterday. They were amazingly well packaged and were a day early. I wanted to let you know they look great, and I'm very pleased with them. They look fantastic and are well made! I'll give you a call when I'm ready for the next shade order!
Thanks for your super customer service and suggestions!
Dave
3-26-13:Dear Jim,
This shade had just arrived safely - and I am absolutely delighted with it. Sincere thanks for your help, and for the excellence of your service.
Kind regards, P. W. - in the UK
3-23-13: The shade looks incredible. Thank you all so much. I really appreciate the hard work you put into it. My girlfriend loves it. Thank you again.
- Preston
3-7-13: Good Morning!
I was sitting here this morning looking at my new shades and wanted to let you know how happy we are with our purchase! I was a bit anxious buying them over the internet but with the lack of local lamp dealers in our area I had no choice. My purchase is perfect…our lamps are back to beautiful.
Thanks, C.M. Nevada City, California
2-15-13: Hi Jim,
The swan lamp arrived today and I couldn't be happier. I will send you a photo of the pair as soon as possible.
Thank you, and again the lamps look great together, it's as if they were meant to be together.
Take care,
B.G.
You guys are geniuses........the shade fits perfectly, and the extra harp you enclosed does the job. It continues to amaze me how you can fit lamps flawlessly at such a great distance.
Many, many thanks.....I'm delighted with the results.
S.D. - Washinton
1-24-13: Mr. Hoyle: My Stiffel lamp shade arrived today and it's just perfect. Thank you so much! I'm so glad I found your website!
- D. K. San Jose, CA
12-26-12: A note to Seth regarding the black lampshade, which arrived yesterday. I absolutely LOVE it.......another winner! Have more to order coming up.......thanks! S. D. East Wenatchee, Washington
12-7-12: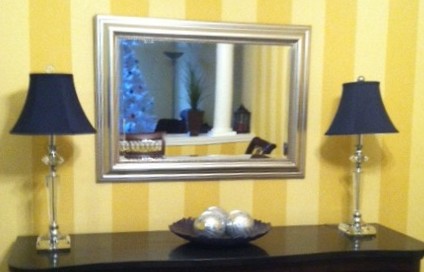 The lamps look absolutely stunting. I have attached a photo. Thanks Jim :)
- M. L.
12-5-12: Jim, I just received the lamp shade and it is very impressive. Thank you for getting it to me before Friday, I really appreciate it.
Happy Holidays to you. - C. B.
12-3-12: First, want you to know how VERY happy I am with the lampshade I ordered from you last month. Seth was a great help with sizing, etc.....all around , impressive service and merchandise. Now, on to the next one: Am interested in the square pleated corners black shade soft , probably 8x14xx11...
- S.D. East Wenatchee, WA
11-5-12: Dear Jim & Seth,
Thanks so much for your shipping. I received shades...... Very nice......... have a good day...
Thanks!
From Tokyo city... M. Y.
10-30-12: Just wanted to let you know that I received the shades today and I'm delighted. Thank you.
- B. C.
10-18-12: Hello, Jim.
My new shades just arrived and I couldn't be happier. They were packaged carefully and they look beautiful in my living room. I'm getting ready to order another shade. Thanks again for your wonderful products.
- Sheila
7-9-12: I can't recall that I thanked you for the two lamp shades you constructed for me recently (this spring).
The black fabric shade for my husband's office added much to the decor and physically fit the lamp perfectly, just as you said you thought it would.
The custom metal bouillotte shade is incredible. What a spectacular lamp it completed. I could not be more pleased.
Again your company has saved my day and I thank you wholeheartedly.
F. D. Dallas, TX
5-11-12: Hi, My lamps arrived safe and sound yesterday, Thursday, and they look great. I just want to thank all of you for the fine workmanship and service that you provided. We had been debating whether to recover or replace and I'm glad that I discovered your company and that we decided to get them recovered since we were having trouble finding the size that we wanted. They look better now than when we originally installed them in 1978.
Thanks again and it was a pleasure doing business with you.
Take care, Lawrence Philadelphia, PA
5-1-12: Good morning Jim, just wanted to let you know the lamps arrived this morning and are absolutely beautiful! I was so amazed at how fast they shipped and more importantly, the wonderful way that they were wrapped and boxed. I will be saving those wonderful containers and cloth like wrapping, I haven't seen anything like that before and my father worked in a local box factory for years. As soon as I get some other projects out of the way I will be contacting you to find a shade for my Remington table lamp. I may just have to order another floor lamp too as I have decided the torchiere with the gallery shade might not make it into my bedroom, it is looking quite at home standing proud in my living room. These are really nice lamps Jim, they look great! In the photos they appeared larger but in person they are perfectly proportioned for my 1950's contemporary home, not too tall, not too bulky, I love them. Anyone would be foolish to buy an antique lamp off of ebay like I almost did and still have to recondition/rewire them, let alone find the perfect shades for them. Besides the awful condition most are in the prices and shipping is far too high and who knows how well they would have been packed. Your prices are just right, I will be recommending you to anyone looking for nice lamps or shades, you have made me very happy this morning.
Have a great week! T.F. San Antonio, TX
4-18-12: Hello Jim,
FedEx just delivered my new lamp shade (A30102).
I just wanted to let you know how absolutely delighted I am with it. It is a perfect fit and compliments the lamp beautifully. My grandmother (1899-1979) from whom I inherited the lamp would love it just as much as I do! My thanks to you and Janie for your help in finding just the right shade for me.
Regards, B.G. Los Angeles, CA
3-2-12: Thanks Jim! Customer service, packaging and shipment gets a 5 star rating.
It's good to know there are "Mom and Pop" shops still out there that care about their customers.
Your business made my wife very happy...and that's not as easy to do!
Thanks Again! A.B. San Diego, CA
11-28-11: Hi Jim. I received the shades for my mom's lamps and LOVE THEM.
Thank you so much. A. W. H., R.N., Ed. D.
11-23-11:Green drum metal lamp shade
Hello, Jim, Many thanks to you, Janie, Janie and everyone else at the Lamp and Shade Outlet for getting me both of my lamp shades in a timely fashion. They are beautiful!
Your quality, craftsmanship, and customer service are indeed top-notch.
Wishing you all a wonderful holiday.
Warmest Regards,
Brian Phoenix, AZ
11-5-11: Hello Jim, Janie and Janie: I received my shades today and "Oh My God"!!! they are just gorgeous. I had no idea they would be so beautiful. The picture on your website does not do them justice. I chose them because of the color combination to fit 2 bedroom lamps. I thought they would look nice but had no clue they would be so exceptional. I will ALWAYS come to you all for all my shades from now on. Plus I know once my Family & Friends see them, they all will want to know where I got them. What company makes these shades? They must make others as unusual and beautiful as these also. Do you carry others from that company that have different panels and color combinations on one shade? Usually shades are one boring color and your choices are White, Beige, Eggshell & Black if you are lucky. Please reply as I have 2 beautiful Solid Brass lamps in my great room that I had shades custom made for that cost me a lot a few years ago. They are Creme and are very striking. BUT I am a person that likes color. Would love to get shades for these lamps comparable to the 2 shades I just received only in a different color combination. PLEASE tell me what company makes this shade? Thank You so much. A VERY satisfied customer. - N. J. S. Chicago, IL
10-28-11: Jim - Received shade in excellent condition. You did a wonderful job.
Thank you. J. A. P. Hilton Head, SC
10-27-11: Jim, My hand painted glass globe arrived yesterday and I'm very pleased with it.
Thank you, M. J. P-K - NY, NY
10-19-11: Hi again Jim -- Just wanted to let you know the Dale Dragonfly lamp arrived today -- PERFECT condition due to your SUPERB packing -- thanks so much! - J. B. Boston, MA
10-17-11: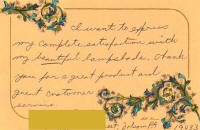 I want to express my complete satisfaction with my beautiful lampshade. Thank you for a great product and great customer service.
Greetings Jim: I do apologize for taking so long to respond back after receiving my lampshades from you - when my husband came home from work the day they were delivered he came into the house and said; "wow, what's in that BIG box on the front porch?" I was preparing dinner, said nothing, turned off all the burners and ran through the house to the front door - he did not know I had pursued finding a source for Stiffel lampshades, contacted you, all that I "put you through, and how patient you were" in helping me to understand what I needed to order (!)
When we opened the box he was delightedly surprised and said; "you finally got us "A" new lampshade" - then came the next and the next and so on - well, Jim, they are beautiful, especially the shade for the floor lamp with the extra glass globe - everything fits perfect and I'm glad for the shorter harp - I'll be contacting your soon for the 14"X17"X16" shade (or whatever, a number or two may be a little off!)
I still need to purchase - again, thank you for all your help, patience, quality products, and great people to do business with - please forgive me for taking so long to send you my expression of appreciation
-- sincerely, C. K. Wilmington , NC
Jim, Just wanted to let you know the lamp base arrived yesterday, Monday Aug. 8, in perfect condition. Could not believe how well it was packed. Now I have to find something to do with those many yards of packing fabric. I hate throwing things away, and will surely have to find some use for all of that.
I am just so pleased with the lamp. You did a wonderful job in matching the color. I have added a couple picture attachments. It really doesn't show up as good as the actual match because of the glare. But, I can tell you that it is perfect. I really appreciate how great it was to deal with you and all the care and consideration that you showed. I would love to visit your shop, as my daughter-in-law told me how nice it was and all the beautiful and unusual lamps you have. It would be worth a trip just to come to the shop and meet you. Tampa, Fl
Thanks again, so much. J. H. Hampstead, Md
6-1-11: Just wanted to let you all know that I received the lamp base yesterday ... it was waiting on my porch when I got home from work. I love, love, love it! I've been looking for almost 2 years now for the right lamp base for a tiffany shade that I bought at an antique shop - was a great deal because it had no base. Anyway, just wanted to let you know how happy I am. Also, what a great job you did in packing it. Nice and secure. Thanks again! C.A.
5-12-11: I am so much more than impressed I can't think of what to say. What a beautiful job she's done, please thank her profusely for me.
Thank you all for this great service you provide and the terrific customer service, Noreen.
(
Antique slag lamp with broken glass shade. Heavy layers of green paint on the lamp and shade frame were removed and refinished - then rewired with period electrical components.
) Myrtle Beach, SC
3-29-11: Hey Jim,
The lamp looks great! With a little effort I was able to hang it over our kitchen table. We love it. Thanks again for your work.
Regards, B.P. Los Angeles
3-4-11: The two lamp shades I ordered just 5 days ago have arrived and they are exactly as described on the web site and by the lady taking my order over the phone. We have been looking for replacement shades for some 30-40 year old Stiffel lamps for several years and could not find anything we liked until now. They look great! The lady helping me on the phone went out of her way to measure and describe the shades to ensure I knew what I was ordering (I knew next to nothing about fabrics, and knew nothing about harps, etc.). It was a pleasure doing business with you and I have already started sharing your contact information with friends and family. We won't be replacing shades often, but I will start with you whenever the need arises.
Thank you - E.A.W. Jr.
2-10-11: Jim - Please excuse the delay in letting you know the status of the shade. Right during its arrival, I was in the midst of moving to San Antonio and considered that the shade was in the best condition for travel as it was - in the box/un-opened. Only a week or so ago we we in a position to set up those special items (including the lamp/shade) to a usable condition.
That said, upon opening the box/setting it up, it became readily apparent that several panels were replaced and that extra effort was taken to make it right - I was most impressed!
Recognize that the process to get to this point took some time, but I'm pleased to know that you/your team stands behind your word/workmanship - that has great value and exhibits great customer service.
Thank you Jim - this is a special family heirloom that you brought back into use and daily appreciation.
- H. P.
2-3-11: The shades are spectacular! The black shade on the brass (oriental-design) Stiffel is absolute perfection. The cream shade could be mistaken for the original shade on the Stiffel pineapple regency lamp. I sincerely appreciate your advice and assistance in this venture. Since I need one more shade similar to the cream one, I will be back in touch with you soon. Thank you so much. Fran D... Omaha
10-23-10: I just want to thank you for the beautiful lamps. You would have thought it was Christmas time when they arrived. We could not get the boxes open faster enough for being so anxious and excited. There was paper all over the dinning room floor and we did not care; any other time it would have been a problem. All phone calls had to cease. They are simply beautiful. They are gorgeous. They remind me of the lamps my mother had before Katrina. She had the porcelain lamps with the naked ladies with the gold trim and the shades were similar to the ones we received from you. Everybody is happy; the house is happy. We thank you for your time and cooperation. Thanks so much. We will pass you websites on to other family members and friends. THANKS!!!!!!!!!!!!!
10-22-10 From one of our very nice Tiffany lamp customers in Australia:
Just a quick message to let you know that the conversion work is finished and that the blue dragonfly lamp now graces the study. As you can see, it looks well set among other lead light lamps.
Thanks again to everyone for their help. Regards, Joseph. Virginia Beach
10-1-10: Jim, The slag lamp repair arrived and I am very very pleased with the results. Thanks again J.B. Mesa
9-21-10: Dear Mr. Hoyle, Some time ago a friend of mine accidentally broke a globe on one of a set of matched lamps I own. He contacted your organization to see what could be done. Two days ago I received the results of your work. With the exception of a VERY slight variation in the shape of the globe, over which you have no control, the globe you copied is virtually identical to the original. No one to whom I have shown the lamps can even see any difference at all in the globes. I cannot say enough about the artwork. The colors are identical to the original, both when the light under the globe is off AND when it is on. Even the brush strokes on the copy appear to go in the correct direction. Needless to say, the graphic detail on the copy is identical to the original. Kudos to your artist. He or she is in the wrong line of work. They could make as an art forger! You people have to be the best in your business.
Sincerely, C. K. S. Wilmington, DE
8-24-10: Jim, Just wanted to let you know that I received my lamp shade. It looks fabulous on the lamp!! Sacramento
It as been a pleasure dealing with you and I absolutely love the fact that the shade was made here in North America!!! Thanks again and have a great day! C.M. Albuquerque
8-23-10: Mr. Jim Hoyle, Alicia helped me with my order. She was so helpful, so polite and so patient. I really enjoyed talking to her. She had so much patience with me. Her voice was so pleasant and so was she. Thank you. F.A.H. Houston, Texas
8-21-10: Hi: The shades arrived today and they look great. The Pleated Gallery silk bell lamp shade is truly elegant and my favorite! What a beauty. Thank so you much! R.F. New York
8-2-10: Hi Jim... You did a fabulous job... Thanks for everything Jim - working with you has been a pleasure - you do fine work, and if only I still had that antique amber pill bottle (HUGE, cracked, then destroyed) I'm sure you could have brought it back to life. I will send off the other shade sometime soon. Again, thanks, to all at the Outlet, for your professionalism, friendliness, and extraordinary craftsmanship! - CA
7-29-10: Hello. I am delighted with the "little hat" shade and how it complements this lamp. I also appreciate the tips on "polychroming" and was able to achieve that effect with this lamp. The flash was necessary because it is such a dark room, but it doesn't do the subtle aspects of the shade or the coloring any favors. Still, I wanted to share it with you. B.M. - Louisburg, N. C.
Fresno
7-8-10: Jim, It has been a pleasure to deal with you. And I am so happy that is being made here in North America!!! Thanks again, Cindy
6-29-10: Hello Jim, I received the lamp today and just wanted you to know that I am totally delighted. If this was ebay you would get 6 stars.!!!!!!! Pleasure doing business with you. I may be ordering again from you. Thank you so much, Nan - Long Beach
6-21-10: Dear Jim, Thank you very much for your help here and on the phone earlier. Unfortunately I can't invest $100 in this lamp which I bought for $10, lovely as it is, since I am not working right now and need to make my bank account last. But I wanted to say that I love your website with the environmental messages, and page about recycled packaging materials and the ocean plastic gyre. You are a man after my own heart and I encourage you to keep it up. Too many people go along oblivious to all these problems. I really appreciate your actions! Your business looks wonderful and I will come back in the future for any lamp need when my fiscal conditions improve.
Best regards - A.O.
6-17-10: Hi Jim, Our new lamp shade for our Stiffel lamp arrived today. It fits beautifully and is of a much nicer quality than the one that came with the lamp. Thank you for making a lamp shade purchase so easy. - A. S. Kansas City
5-19-10: We have been impressed with the quality of your shades and service. E.H. Miami
3-24-10: Hi Jim, The Shades arrived last week. They are perfect and the new harps put them at the correct height. Thanks for the great service. - J. L.
3-17-10: Hi Jim! I just got my miller slag glass lamp shade at my office today & it looks gorgeous and is restored to its beauty so thanks so much. I was heartsick when I first sent it to you and now it looks wonderful. How did you do it? You mentioned that someone makes the glass? I am curious how the process is done because it looks amazing. - Best, Adrienne
3-1-10: Hi Jim. We got the (mica hanging) lamps and got them up. We love them! Thank you. Your company was great to do business with! I attached a pic. Thanks again, Marta Chicago
2-25-10: I received your shades and must write to tell you how happy I am with them! I've been looking for replacement shades for quite a while now, and yours are of superior quality and match my lamps perfectly.
Thanks! Carol New York
2-22-10 Jim, I received the shade I ordered today, it arrived in fine condition. This shade is very nice and exactly what I was looking for. Thanks, Rick
2-16-10: Hi Jim, My husband and I just returned from 3 days working on our cabin and the lamp was waiting for us on our return :) I just wanted to let you know that it's perfect! Give Gracie a rub on the head from me :) Thank you! - Renee' San Jose
2-11-10 Hi Jim, Just checking in to let you know that I'm really enjoying my beautiful 6-way Victorian Floor lamp. I did check out what you have in stock now and they are lovely but I'll keep what I have. Thanks for all of the up dates. Dallas
2-9-10: Jim et al, The package arrived intact today. Great lamp shade, and it's perfect for the lamp and room. I will definitely tell people about you.
Thanks/Fred Los Angeles
1-28-10: We have received the beautiful lamp shade today and I just wanted to let you know how happy we are with it, and with bringing back to me the memories of honest to goodness old fashion American folks that my dad used to tell us about. Thank you again sir and looking forward to doing business with you in the future. - L.H. San Antonio
1-26-10: I want to tell you that I received the shades and really love them. Thank you, S.V. Chicago
1-21-10:Jim, I want to thank you and your staff for a wonderful job restoring the (slag) shade. I cannot tell what was repaired. It all looks original and it is an item to remain in the family. Thanks - Alan San Francisco
12-31-09: Yvonne, Just a note to let you know the lamp arrived in at Don & Isabel's door steps in Eufaula, OK, and it was a huge hit and a very Merry Christmas!
It would not of happened without your GREAT customer service.
Best regards & many, many thanks! - R. & P. S. San Francisco
12-7-09: I received the repaired lamp shades a couple of weeks ago. Nice work. We are very satisfied. Sorry it took so long to get back to you with this thanks. - T.M.
12-2-09: Mr. Hoyle, I received my glass lampshade back today and it fits perfect. I really appreciate all the help that you gave me. THANK YOU - Ron
11-25-09: The lamp shades are beautiful. I could not be any happier. They allow plenty of light flow and best of all they fit the old floor lamps perfect, and very reasonably priced. Thank you so much! I even got lamp shades in time for Thanksgiving. - S.O.
11-24-09: Hello! I'm writing to say how much I like the two new clip-on off-white string lamp shades. They look beautiful on the old white porcelain wall sconces in my powder room. Thanks! - C.M.
10-22-09: I received the shades yesterday and am very pleased with the quality, thanks -R.D. Dallas
10-17-09: The black pagoda shade fits perfectly Denver
10-12-09: Hi, Received my lamp shade. It is beautiful. I don't have the floor lamp with me as it is in the garage in the condo I'm purchasing so I'm going to try and go over after work one evening and see how the shade looks on my floor lamp. Thanks so much and have a good week. Best regards, N.
10-12-09: Jim! Got my new lamp base here out in Burbank, California--- the lamp looks GREAT on it, really transforms it. (Thank goodness someone I know actually WANTED the old ceramic one, yuck!) I appreciate you walking me through all the various base options, the accompanying hardware, etc., etc. VERY happy results, and would recommend your company to anyone. Thanks again, and happy business! J. G. Houston
10-7-09: Hello, I thought that you might like to see what I did with the swag lamps that you made for me (they show how you can decorate a plain shade to your personal preference).. As you can see, I added blue beading and gold trim to match the color scheme in my living room. I'm really pleased with how they look and will definitely keep you in mind for my future lighting needs. - S. S. Pittsburg
9-28-09: Dear Jim, We are so happy with our new lamp that we had to send this picture to you. Hopefully it will open for you. Thank you so much for your prompt and courteous service. We will be referring you and your business to friends and family. Thank you again - E. and L. W.
9-24-09: Hi Jim, The shades arrived yesterday and they are simply perfect. Thx so much for your great service! PA
9-16-09: The finishing that you did on the metal of the gone with the wind lamp is terrific. Thanks so much. M.M. Los Angeles
9-15-09: Thank you for your stellar service and follow up. PA
9-2-09: Dear Mr. Hoyle, I received the shade you found for me. I can't thank you enough for your efforts. It is absolutely beautiful and exactly what I was looking for. Each room in my house has a theme and the fall colored grape leaves fit my mudroom perfectly. Thank You Again - S.N. Mont Vernon NH
8-18-09: Jim and all, Thank you for a good job; we love the swag/hanging lamp.8-15-09: Dear Jim, Thanks for the good advice you gave me regarding the selection of lamp shades for my two Stiffel lamps. My wife and I are very happy with the lamp shades. They are really beautiful. And, I am most satisfied with your service. Your web site is outstanding. It was easy to browse and fascinating to see such a selection.
Thanks again, John Chicago
7-31-09: Everything works perfectly and the lamp shades look beautiful. Thank you very much. H. and J. N. - New York
7-31-09: The lamp shade arrived and it is very perfect. P.J.
7-28-09: Hi Jim, The lamp shade arrived today as predicted. It is beautiful and we made the right decision on the size. Thanks for your help.....................D. E. Bellingham, WA
7-27-09: Received the lamp shade. It's perfect! Thanks again for your advice. Appreciate the recyclable packing material too. Best Regards, E.
7-22-09: I love my lamp shades ! Thank you ! - M.A. Atlanta
7-15-09: Have received my lamp shade. The quality is very nice. I have passed your website along to family members! Sincerely, D.W. Carrollton, VA
7-2-09: I rec'd my order yesterday and want to tell you how beautiful it is! The pictures do not do it justice. On another matter, I'm wondering if you might have a drum lamp shade about the same size or a little larger that has a botanical print (ferns, etc.) cover. I didn't see any on your web site but thought I'd ask anyway. A.E. New Orleans
5-26-09: Hi Jim, my lampshade is great- thanks for helping me choose which one would best suit my lamp. It was packed great- very securely and arrived in perfect condition. thanks again c. j. Tucson
5-15-09: Thank you for your recommendation of the glass torchiere lamp shade for my Dad's lamp. Yes, it is different than the original glass shade but it is a good different and I thank you for helping me through the selection process. I guess you need to really thank Gracie. If it were not for her I may have thought you were just another lamp store! Have a great weekend. I am still contemplating a lamp shade but I am unsure of covering up the glass. K.A.
5-13-09: I received my lamp yesterday and I LOVE it! Thank you so much for the excellent customer service and the great lamp! - N.A.
5-4-09: Jim - just wanted to let you know I got the lamps - they look great. Thanks Oklahoma City
5-1-09: Hi, The lamp shades are beautiful. Thank you so much. So glad I didn't pick up some cheap ones. We have them on old Roosevelt Lamps which are understated elegance and the shades are perfect. -J. Portland
4-29-09:Hi Jim, the box was sitting outside the door at midnight. Thank you so much for repairing my lampshade!!! Respectfully, L. C.
A VERY HAPPY customer!!! Las Vegas
4-1-09:Good morning Jim, I just wanted to thank you for all you assistant in getting my lamps, I was very happy with the service and the product, I received the lamps last Friday and when I opened the boxes and saw them I was so happy – they are beautiful!!!. Thanks again and good luck to you and your company!! Seattle
3-31-09:Hi Jim, I just received my Tiffany lampshade in the mail. WOW, It looks GREAT!!! I own 10 Tiffany lamps and will not hesitate to contact you if anything happens to any of them. Thanks, L C - Nashville
3-28-09: Hi Jim, I just wanted to let you know that I received the finials yesterday and they are perfect. I appreciate your help and the personal service of your company. It is very refreshing and I will highly recommend you. Thank you, E.D. San Diego
3-25-09: Hi Jim, Just a short but warm note to let you know the slag glass panels arrived today; safe and sound. Oh Jim, I waited until this evening until the room where the lamp is became somewhat dark in the evening light to see how it looked lit up, and I must tell you; IT LOOKS ABSOLUTELY BEAUTIFUL!! The color of the slag glass panels couldn't be better and the size is just perfect! I now have another wonderful lamp all fixed up ... and ALL THANKS TO YOU. Wow Jim, am I ever glad I found you and I am sure the future will find us doing many projects together. I just love the old lamps and can't understand why anyone would ever just go to a store and purchase a new lamp .. they sure don't know what they are missing do they?! THANK YOU JIM .. GOOD JOB .. you have made me a very happy Lady tonight and I just wanted you to know (I love the color of the slag glass)! A MILLION THANKS TO YOU!! Very sincerely, Marion - Washington
3-25-09: Hi Jim, Our new lampshades arrived yesterday and I could not wait to put them on the lamps. The shades and new finials are perfect for our bedroom as they go so well with our French Country style that you would think a designer arranged our room. Your assistance and expertise is greatly appreciated. Thank you for your input and quick delivery. E. B. Canada
3-16-09: Hi Jim, This is C.W. I purchased a shade for my Stiffel floor lamp a while back and my lamp shade just arrived a few days ago. I must say the shade looks beautiful and fits the lamp perfectly! Thank you for your personal help in finding the right lamp shade! I am recommending you to my mother who wants to get a lamp shade for her Stiffel lamp as well. Thanks Again, C.W. Germany
2-26-09: ...shades arrived alive and well. It fits and matches perfectly into the room. Three words:
Thank you, Jim!!! Italy

2-21-09:Hi Jim, Absolutely fantastic. You folks are artisans in the true sense of the word. It is not often I am thrilled that I live in the age of the internet and computers, but in this case I would never have found Hoyle Lamps! I will get the $ off to you on Monday and you should have them Tuesday. Keep me posted with shipping date, tracking number, etc. Also, don't forget the little desk lamp – and the ruined pieces of the shade I sent you and the glass. Our youngest has a friend who is a metal worker and he wants to fiddle around with the pieces. Although this "new" lamp shade is so spectacular, I cannot imagine that I ever really loved the broken one I sent you.
Thanks again, Jim. It has been a pleasure working with you. Best regards, C. K. Phoenix
2-3-09: Thank you Jim, I am impressed and it was nice to talk with a warm, friendly human being that has a name.. Tom France
1-30-09: Also, we wanted to take a moment & let you know how very much we appreciate ALL that YOU folks at LAMP SHADE OUTLET have done in putting back together a special treasure for us by bringing back a little more delightful light into our home & lives once again!!!
You're da best!!! Sincerely, respectfully, & gratefully, M. & L. C. Lake Isabella, Calif.
1-29-09: I just wanted to let you know that I received the lampshade today. It is perfect. It is absolutely beautiful and the quality is excellent. Thanks you so much. I love lamps, so I plan to return in the future! P.G. El Paso
1-8-09: My daughter, M. S., and her sister and their families, got together and ordered a "swag" lamp for my living room for Christmas. I am really enjoying it. I especially like the two-way switch. I can have a soft light just to have some light in the room or a bright light to read by.
12-22-08: Received it and it is PERFECT! Thank you for your quick delivery! I will definitely purchase from you again. Happy Holidays! Milwaukee
10-30-08: Dear Jim, I received my lamp shades today and put them up right away. They look so beautiful and elegant. Thank you. P.M. Cave Junction, Or.97523
10-20-08:Jim - Got my lamp shade today and could not wait to see how it would look on the lamp that I wanted to put it on. This is a very beautiful antique crystal lamp that I got at an auction. (I am into antiques) The lamp did not have a shade on it when I bought it, so I ordered one from you. Wish you could see it in person because it really makes the lamp super. I am sending you a picture of it (not to good) so you can see how it looks. If I ever need another lamp shade, I would not hesitate to order one from you. -Thanks Again, W. V., Oskaloosa, IA 52577, Shade #06745
10-8-08: Hi Jim: Received my lamp shade today and I am so very pleased. It's beautiful and was well worth the time and effort spent on the Internet to find you and your lovely lamp shades. Thanks again and if I hear of anyone that needs your service, I will recommend you highly. B.
10-3-08: Dear Jim Hoyle, I just received my order and I am so happy. It has been three years since I could use this floor lamp and the glass torchiere is just like the one I had. Thank you so much for all your help. It looks great in my living room again. Regards, N.M. Boston
9-22-08: Thanks for you help with the lamp shade. It is the perfect size. S.D.8-21-08: Dear Jim,
I wanted to let you know that I received the 4 lamp shades that I ordered from you yesterday as promised. I was extremely pleased with the beauty, quality and workmanship on all of the lamp shades. But I must say that the 2 rectangular lamp shades (DS68-18) with the flared bottom are more beautiful than the original shades that came with the lamps. Even my husband, who could care less about lamps or shopping, remarked how beautiful all the shades looked. I will recommend you, your company, and website to everyone, and I will shop your website again in the near future. It has been a pleasure, and I did not even have to leave my house! Thanks again. Sincerely, L C Fort Worth
8-15-08:THE LAMP SHADES ARRIVED AND ARE JUST AS WE HAD HOPED. THANKSD.B Oregon
7-29-08: Thank you so much for the replacement torchiere lamp shade (dish type). We had broken ours, and I wasn't sure the new one would work, fit, be the right color, size, and be a reasonable price.
It was all these things. THANK YOU SO MUCH! C. C. Pittsburgh, PA
7-16-08: Jim, Just wanted you to know that I received the lamp shades last week and they are fabulous. I am sorry I have not written to Thank You sooner but have had a couple of family issues that took my time. Again many thanks and the lamp shades are just beautiful. I will pass your site forward to friends etc. Many regards, L. C. Charlotte
5-20-08:i just wanted to say thank you again. when i got home from work today the package was sitting on my porch. i put it on my lamp and it fits like a glove! it looks just like the old one i had but better! thanks again you really made my year!!!!! v. and t. Baltimore
5-6-08:Dear Mr. Hoyle: The lampshades I ordered arrived a short time ago. I have removed my 30 yr. old shades, polished my "cut glass" lamps, crowned them with the new shades, and my whole bedroom looks brand new. "cut glass" lamps, crowned them with the new shades, and my whole bedroom looks brand new.
Thank you so much for your website. I can't tell you how long I have been looking for those exact lamp shades. The packing was great and, Fed-Ex actually brought them to my front door. The billing came yesterday so I am all right with the world.
I live in a ranch-style condo community so I am going to spread your name around as someone to do business with. Sincerely, J. F. Christiansburg, VA
4-23-08:Thanks, Jim, for your thorough and expert help on the evaluation. C. W. (lamp appraisal) Memphis
4-22-08: Package arrived today. thank you. Almost perfect match for our 34 year old lamp. Thanks again, J.F. Houston
4-3-08:received shade today Jim.....excellent service again ....t y
Dear Jim, I just wanted to tell you know that my lamp shade came today (Tues. Mar. 18th.) and it looks wonderful!! I'm so pleased to have it, it took my husband and I sometime to find the base, it's been packed away for years and years!!! Again, Thank you so much for a job well done!! Sincerely, D. B. Austin
3-12-08: We have finally had time to put our lamp back together. The piece is perfect and the color of the patina is great. You cannot tell that there has been damage to the lamp and that a replacement repair has been put in place. Thank you for your great assistance in this matter. We have several Tiffany reproduction lamps and I am sure we will be using your service in the future for lamp repair and/or replacement. Thank you so much and wishing you a great and blessed day....R. and R. C. Columbus
2-27-08: Just wanted to tell you that the 3 shades arrived safe & sound today...They are great! Thank you for such professional service..M. R. Pennsylvania
The lamp is fantastic!! It is in our library area of the house so that it shows all those beautiful colors over a large area of the written word. We could not be more pleased with the item. I am a science person, and to have an item made of one of NC's minerals is exciting to me. I love the way the mica refracts light from the bulb. I will look for more items from you. Since I live in North Carolina, I thought that I might visit your store if that is possible. Take care. Item was exactly as described. Great response time. S. B. in North Carolina
I just received the lamp this morning and am very pleased. It is even nicer than I imagined! This will be an Easter gift, and I know it will be a hit! Thank you so much for your prompt shipping & follow up! Gorgeous lamp! Arrived quickly, well-packaged & in great condition. Thank you! Sincerely M. M. in Virginia
To everyone at Lamp Manufacturer Factory Outlet: I was so happy to have found you! Your products are beautiful quality, yet prices are extremely reasonable. In fact, I could not find anything close to the same quality at two, three & four times the price. Your response time was great, too. I received my shipment very quickly. Thank you so much! J. R. in San Diego, California
Fast service - packed very well. A pleasure doing business with this seller. P.M. in Chicago, Illinois
Gorgeous lamp! Arrived quickly, well-packaged & in great condition. Thank you!
Beautiful! I'm very happy with my lamp. Super quick shipper, too! A++++++
VERY NICE PICTURE, ONE OF MOST HONEST SELLERS I'VE BOUGHT FROM!!!!
Prompt and courteous, with excellent communication and follow-up.
Thank You Very Much!!!!!!!!!!
Gorgeous! Thank You!
Great communication. A pleasure to do business with.
GREAT COMMUNICATION! HIGHLY RECOMMENDED!
Fast service - packed very well. A pleasure doing business with you...
When you say customer service you really mean it. Thanks so much for your help ! Jacksonville
11-27-06: R. C. and I just opened the lamp box tonight and put the lamp together....She just screamed (literally screamed) with excitement.
It took us two hours and twenty minutes to decide where to put it and how it should be sitting. I'm going to have a strong drink before turning in tonight. She is SOOOOOOOOO happy with this purchase. If you need anyone to put any positive comments about your company on your website just let me know... J.R. - Durham, N.C.
11-27-06: Today we received our lamp that you had repaired. We know that it was impossible to restore it to the original design but we are extremely pleased with the metal section that you used to replace our shattered glass section. Thank you very much. Also, we felt that your charge was very reasonable... W.& J. - Port St Lucie, FL
12-19-06: Thank you very much! I am very pleased with the outcome of the appraisal, and I thank you very much for time in doing the appraisal. I told my mom about the outcome of the appraisal, and she is interested herself in possibly doing some on the antique lamps she has. So I most likely will be contacting you again very soon. Thank you again. S. K. Birmingham
12-20-06: Subject: LAMPS....LAMPS.....LAMPS Hi Jim, I received my delivery of the lamp A-908 and the lamp shade I ordered. They both look great and I'm very pleased. Thank you so very much for your help with my order. I appreciate it. Merry Christmas FROM JAYNE AND JOE
12-22-06: I RECEIVED MY LAMP SHADE A LITTLE WHILE AGO, THANK YOU SO MUCH, IT LOOKS GREAT. HAVE A VERY MERRY CHRISTMAS AND A BLESSED AND HEALTHY NEW YEAR. THANKS AGAIN. I. D. Indianapolis
1-3-07:The floor lamp base for my Tiffany shade arrived and it is perfect . Many thanks - J.P. UK
1-4-07: I received my lamp several weeks ago and am very pleased. It is so good to have my Mother's lamp working again. Here is a photo of it with the lamp shade that you helped us pick out. Thank you for your help. We think the shade looks great. - S.M. Tallahassee
1-31-07: (phone call) I just wanted to call to let you know we received the lamps and they are just perfect. I appreciate your help in changing the heights and the stone accents are beautiful. We will definitely come see you again. - L.W. Lancaster, S.C.
2-17-07: I am so glad my sister and I found your beautiful store. We will most definitely be coming back. B.H. Cherryville, N.C.
2-23-07: Hi Jim, A big hug and big thank you to you for best customer service I have ever experienced so far on the internet..... I salute you.... Thank you again, Sir.. Canada
3-14-07: Jim: Got the lamp yesterday. It looks great... Thanks, Ron Philadelphia
3-29-07: Dear Jim, I received your beautiful lamp yesterday and I wanted to be certain you knew how delighted I was with you, your son AND your lovely lamp. I will be looking for some more of those. If you ever get in anything that you think is very extra special, please let me know - in the 6 way. I have a few more dark corners! You were a pleasure with whom to work and I thank you, Jim. Best regards, B.M.
4-16-07: I enjoyed seeing your new place. Also wanted to thank you for the nice door prize. I am using it in my bedroom. You and your employees are always so nice that is one reason I always enjoyed shopping there. Thanks again.... M.C. San Antonio
5-16-07: Jim: I finally got pictures of the finished product. We are very pleased with the lamp you made for us. It serves it's purpose great and we have had a number of nice comments on it. R. & C. H.
7-13-07: Hello! Just received my repaired lamp. It is beautiful! I know it has lost its "value", but not its value to me! Just wanted to thank you very much for bringing that small piece of family back into my living room. I cannot wait for it to get dark! thanks again, J.M. Detroit
10-12-07: Jim, received shade today, looks great, arrived in one piece. Thank you, Mel - Colorado!
11-26-07: Dear Jim, The lamp base arrived Saturday evening in beautiful condition. Our tiffany dragonfly lampshade looks right at home now. Thank you so much, M.G. San Jose