Mica lamp #90711B 22"H x 17"W, 6" wide lamp base $179 SALE = $89
Mica lamp #1206-6 is 22.5"H x 15"W, 7" wide base, Metal Hexagon Shape Base, 1 light $229 SALE = $119
Mica lamp Dirk Van Erp Style #1223C 20"H x 17"W, 8.5" wide base, cast metal is ANTIQUE MILLER LAMP in excellent condition circa 1910 bronze gold finish, 2 pull chain lights $399 SALE = $179
Mica lamp Dirk Van Erp Style #1223A 20"H x 17"W, 7.5" wide base, cast metal is Antique in excellent condition circa 1910 bronze gold finish and fluted design base, 2 pull chain lights $399 SALE = $179
Mica lamp Dirk Van Erp Style Mica lamp #1223B is 21"H x 17"W, 6.5" wide base, cast metal is Antique in excellent condition circa 1910 antique gold finish, 2 pull chain lights $399 SALE = $179
ANTIQUE MILLER LAMP COMPANY base circa 1910 #42311 22"H x 14"W 7.5" W cast metal great condition antique gold finish, 2 pull chain lights $399 SALE = $179
Antique base in excellent condition circa 1910 with unusual reticulated design throughout the base and upright column, #1206-1 24"H x 16"W, 7" W cast metal 2 pull chain lights $399 SALE = $179
Shades are made of real mica, a natural mineral mined from the earth
Left: Amber mica
Right: Silver mica


Antique base in excellent condition circa 1910 #1206-5 24"H x 16"W, 6.5" W cast metal 2 pull chain lights $399 SALE = $179
Mica lamp #7 22"H x 15"W square silver mica shade, cast metal $229 SALE = $149
Mica lamp #8 21"H x 15"W square silver shade, cast metal, 2 pull chain sockets $229 SALE = $149
Mica #1209-222, 22" H x 17"W shade $199 SALE = $129
Mica #1206-8 is 22.5"H x 15"W, 7" wide base, Square Silver Shade, Base is Fine Quality from Dale Tiffany Art Nouveau Style With Dragonflies in a Bronze Finish, 2 pull chain lights $229 SALE =$139

Mica # 6 21"H x 17"W, cast metal, 2 pull chain sockets $229 SALE = $149
Mica #9 21"H x 14"W, cast metal $229 SALE = $149

Mica Square base 26"H x 17"W $199 SALE = $129
#90711A 21"H x 17"W 4.5" wide base, 2 pull chain lights $229 SALE = $149
Mica #1223D is 28"H x 16"W, 7.5" W cast metal is Fine Quality 1 of a Kind Heavy Cast Metal Hand Painted Bronze Finish made by HOYLE, 2 pull chain lights $299 SALE = $159
Mica # 1206-9 is 23"H x 14"W, 7" W cast metal is Fine Quality 1 of a Kind - made by HOYLE, 2 pull chain lights $299 SALE = $159
Mica #1209-111, (light on) hex mica shade on cast metal tree lamp base 24"H x 21"W x 9" lamp base $229 SALE = $159

Mica with night light (see next photo) 23"H, heavy cast metal, 14" wide shade, 7" wide base $179 each

Night light
#1206-7 is 20"H x 17"W, 7" wide base, Base is Fine Quality from Dale Tiffany Made of Cast Metal with Bronze Finish, 2 pull chain lights $299 SALE = $169
Mica Dirk Van Erp Lamp Style # 20090105E 26"H x 20"W, cast metal is 9.5" wide, 3 pull chain sockets $359 SALE = $249
Mica Dirk Van Erp Style #2 29"H x 20"W, heavy cast metal, 3 pull chain sockets $399 SALE = $299

Large mica very fine quality heavy cast metal is 10" wide American made Dirk Van Erp shade style, 3 lights 36"Hx20"W $499 SALE $399

Mica lamp with ceramic base by Dale Tiffany 23"Hx16"W, wood base is 6.5" wide $199



Mica lamp with square cast metal base by Dale Tiffany 21"Hx14"W base is 6" wide $199
American made mica shade
Limited only by your imagination - Examples below - Email your requirements for a quick price quote
Rare 1 of a kind custom rustic table lamp, deer, elk, trees, cedar base has hand carved feathers 27"H x 17"W, metal art mica shade has southwestern borders, tall pine trees, cedar finial, wood is sealed and hand rubbed, custom themes available $599
Rare 1 of a kind custom rustic table lamp
Rustic Cedar lamp hand carved 27"H x 14"W, Silver with patina metal art black bears and trees $399
Rustic deer lamp 27"H natural oak wood with bark $499
27" Bradford pear wood lamp, hand crafted shade with cattails $459

metal art figures not included
Rustic Bradford pear wood table lamp mountain scene 27"H x 16"W, elk and trees on one side, deer and trees on the other side, Bradford pear finial $479
Rustic elk lamp 27"H natural oak wood with bark $499
Pine limb metal rustic lamp, pine needles and pine cone 25"H x 14"W, hand made silver mica shade $359
CUSTOM
3 arm floor lamp Mica shade has metal cutout scene of Jim's beloved "Gracie". Email photo or drawing for a quick quote for your own personal 3 arm floor lamp
Mica Shades Are Here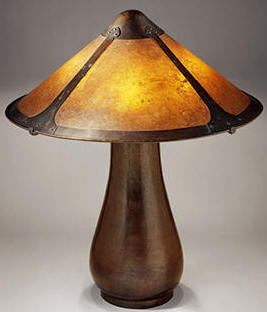 Dirk Van Erp (1860-1933) Mica Lamp Metropolitan Museum of Art

1860 Dirk Van Erp was born in Leeuwarden Netherlands to a family of metalsmiths and coppersmiths
1886 he came to the United States
1890 he moved to San Francisco and worked for Union Iron Works.
1892 he married Mary Richardson Marino
1894 his daughter Agatha was born
1898 he traveled to the Yukon Gold Rush
1898 he returned to work at the Union Iron Works
1900 he moved to Vallejo, California and worked as coppersmith at Mare Island Naval Shipyard.
He made lamps from empty shell casings and sold them to local retail merchants.
1901 his son William Henry van Erp was born
1908 he opened the Art Copper Shop in Oakland, California
1909 he exhibited dozens of pieces at the World's Fair Seattle, Washington and won a gold medal
1910 he moved his shop to San Francisco and briefly partnered with Elizabeth Eleanor D'Arcy Gaw
1915 he exhibited at the World's Fair in San Francisco
1915-1918: During World War I, Dirk Van Erp worked at Union Iron Works in support of the war
1918 World War I ended and Dirk Van Erp resumed his work
1929 he retired
1933 Dirk Van Erp died
Son William Van Erp operated the business until 1977 when he died.