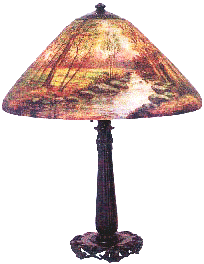 Riverbed Scenic Reverse Painted Lamp auctioned for over $ 81,000
In 1876, Philip Julius Handel first established the company in Meriden, Connecticut in 1876. They specialized in high quality reverse painted lamp shades and at the time were generally considered a moderately economical alternative to the lamps of Louis Comfort Tiffany ...
They also made leaded glass shades similar to Tiffany as well as vases, humidor boxes and other decorative objects. The most popular lamps of the Art Nouveau period (1890-1920) and the Art Deco period (1920-1939) were Tiffany, Handel, Pairpoint and Duffner & Kimberly.
In 1885, Philip (age 19) and Adolph Eydam (age 21) formed a partnership and created the "Eydam and Handel Company" in Meriden, Connecticut specializing in glass decorating and lamp manufacturing.
In 1892 the partnership ended and the company later moved to larger facilities in New York city in 1893 and was known as "Philip J. Handel" and later as "Handel and Company".
Initially the company used lamp bases that were made by other lamp companies such as the Edward Miller Company and Bradley & Hubbard who were both located in Meriden Connecticut at that time. Handel would also fit their shades to their retail customers existing bases which were from other sources.
In 1902 Phillip opened his own foundry and began producing his own lamp bases.
On June 11, 1903 the company was incorporated and Philip, Albert Parlow, and Antone Teich were the principals. The electrical sockets were manufactured by The Hubbell Company in Hartford, Connecticut. Some of these sockets were labeled by Hubbell with the Handel marking on them.
In 1906, Philip married Fannie Hirschfield his second wife.
In 1914 Phillip died and his wife, Fannie became the company's president of the company.
In 1918 Fannie remarried.
In 1919 William F. Handel, Philip's cousin took control of the company.
During 1918, following World War I was a period of tremendous growth. The economy was roaring and the company had assembled a very impressive and talented group of artists and craftsmen. However, the Great Depression drastically changed the company's fortunes and by 1929 the company was struggling. The company ceased production completely in 1936.
The company is a prime example of fine American quality craftsmanship. Although best know for their reverse painted glass lamps they are also well know for their slag glass and stained glass Tiffany style lamps.
In 1906 Handel developed a new shade with a metal overlay they called "TEROCA" and until 1920's this and other types of leaded lamps were a large part of the company's production.
Handel bases were most commonly made of a zinc alloy called spelter with a bronze patina or finish. Some bases were made of genuine bronze. The marking was commonly the company name on the bottom of the base which consisted of raised or incised letters and/or a fabric label. Sometimes the marking would be underneath the base or on top of the base. Lamp shades were marked on metal components and/or on the glass itself. Some of the glass pieces are signed by the artists. Many of the medium to larger lamp bases were wired with multiple sockets which were operated by pull chains that had small and various shaped pull balls and acorns on the ends of the chain.
Some of his glass artists are highly regarded and their works bring a premium price. Their signatures can be seen on some lamp shades. Among these well regarded artists are Bailey, Bedigie, Broggi, Gubisch, Matzow, Palme, and Parlow and Runge.
It has long been a common practice to match and mix slag lamp shades, Tiffany type shades and others to various lamp bases that were not original. Another common practice has been to place an unsigned shade on a signed lamp base and pass the entire lamp off as a original. Many lamps and shades are referred to as being "Handel" simply because the style is similar to that of an original.
Many experts today suggest that about 90 % of all lamps called Handel were not actually made by his company. This will continue to be an ongoing issue which all sellers and buyers must be made aware. There are many lamps that are signed but that are not authentic. There are many fake markings that appear genuine to the untrained eye. Identification is a subjective process that few people are qualified to do. Given the company's history it is sometimes difficult to prove the negative: i.e. that a particular lamp is not an original. You will find that a Handel lamp and shade with correct markings, attributes and documentation commands a very premium price as compared to any lamp that looks like or that is attributed to his company.
Some small and simple desk and simple piano lamps have recently sold for a few hundred dollars. Generally the more complex ones sell for over $ 2,000 and the intricate reverse painted lamps may sell for many thousands.
Shop authentic
Handel lamp
: